On my other blog…
I do some meme's  and blog hops. Today I am going to do this here also :)
It's for a good cause!
And…  I could also use some more followers :)
First let's do "Thankful Thursday" & "Tell Us Something Good"… and then I will post the Thursday Blog Hops I am participating in :)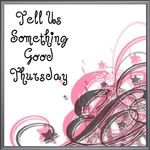 Thankful Thursday & Tell Us Something Good really are a perfect match! I have something good to tell & it just-so-happens to be something I am very thankful for!
I have been taking up donations for a family in need. I have only been accepting donations for 5 days so far & I have been able to collect  $240. Of course I was hoping for more like $500… but it is still enough to make a purchase for this family. There is an item I  am planning on buying & I will have this shipped to them. Any other money left over will be put on a gift card for them to purchase what ever they need.
If anyone reading this feels led to donate to this family you can do so here
If this button does not work contact me:
we_haveitall@yahoo.com
Now…
BLOG HOP THURSDAY!!
~Let's meet some new people~
~Don't forget to link up~
Have FUN
AND
HAPPY THURSDAY!!